Ever since the launch of the now legendary 'Brain Training' we have become obsessed with exercising our brains. From sudoku through to speed memory games, testing our mental capacity has become as common a part of modern social dynamics as pushing ourselves to our physical limits.
Yet the interactive puzzle genre has come leaps and bounds since Japanese gaming giant Nintendo dominated the industry; today anyone with a smart phone and a few minutes to spare can embrace the wonders of 21st Century puzzling.
Hailed as 'like boot camp for the brain' by the New York Times, Brain Fitness Pro is a well-rounded yet effective brain training app known to increase IQ, improve memory and focus, and restore brain functioning lost through aging, injury or stress.
Benefiting from a simple interface and a cost-effective purchase price of $3.99 this is a great all-rounder that's well worth a little of your pocket money.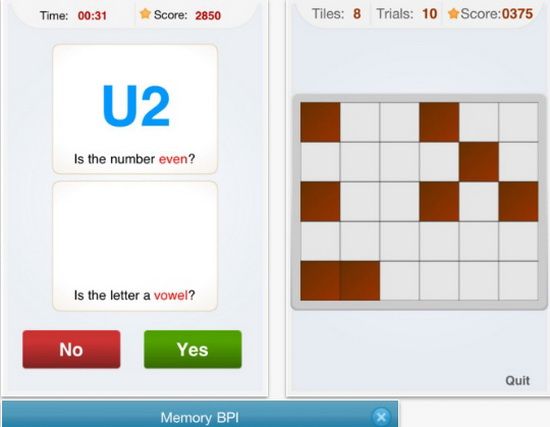 Altering the social norms of mobile application downloads, Luminosity allows users to play five free sessions, charging a small subscription fee from there onwards.
However, there's no denying that this minor financial commitment is worth it.
Unlike the simple black and white backdrop of Brain Fitness Pro, Luminosity stands out from the throes with its bright and colourful yet simple and minimalist interface.
The app incorporates 10 different games that are played during individual sessions over a period of time. Progress is clearly monitored to allow users to see how their brain functioning is improving. Present users of Luminosity state that as well as boosting their memory, the application has helped them improve their problem solving skills, think more quickly and even enhance their day-to-day mood.
Certainly a brain training application with a difference; AmbiScience utilises music to position the mind in a state of an almost higher power, rather than focusing on improving the memory or mathematical prowess of the brain.
Users state that the application helps them to enjoy a deeper sleep, slip more easily into a state of relaxation and even increase focus and concentration for studying. Undoubtedly this app is worth far more than it's two dollar price tag.
While there's no reason to say that the mini Einsteins amongst us won't benefit from a daily dose of the above applications, most children will find that they have slightly different needs to their elders when it comes to challenging the mind.
For children, brain training is more about learning new things than preserving brain power and that's precisely what the team at THUP Games had in mind when they created this colourful and simply charming learning tool.
Boasting a solid four star rating and a bargain $0.99 asking price this is a must-have app for any parent of preschool aged children.
With countless apple enthusiasts stating that Brain Challenge is the best brain training app on the market, we simply couldn't end this article without allowing it a mention.
Brain Challenge boasts an interface that with a colourful and almost futuristic appearance is unlike no other.
As well as incorporating training exercises designed to improve your memory, focus, logic, visual and mathematical skills, Brain Challenge allows you to create personalised tools designed to relieve stress and monitor your progress using colourful yet clear and concise charts.
And finally…
Don't forget that there is (as of yet) no scientific evidence confirming that 'brain exercise' games are actually able to increase the capacity and prowess of the brain.
However, there's no denying that it's highly beneficial to keep the mind active, particularly as we age; not to mention the fact that brain exercise games are simply a whole lot of fun!
Don't forget though, that physical exercise and a healthy diet are proven not only to benefit the body, but the mind too. Some studies even say that regular exercise can help keep Alzheimer's at bay.
If you really want to keep your mind as bright and alert as can be, ensure to eat a diet rich in colourful fruits and vegetables and ensure to partake in at least half an hour of exercise (the sort that gets your heart pumping) most days.
Jessy is a tech geek and health blogger for Life Insurance Finder, the free online app for life insurance comparison.